Merck Animal Health Encourages People to "Get Outside & Protect Our Pets"
New Global Corporate Responsibility Initiative to Inspire Community Cleanups
Madison, N.J., September 22, 2021 – Merck Animal Health, known as MSD Animal Health outside the United States and Canada, a division of Merck & Co., Inc., Kenilworth, N.J., USA (NYSE:MRK), today announced a new global community service initiative encouraging Merck Animal Health colleagues, partners and community members to "Get Outside and Protect Our Pets." The pandemic has changed the way we live and care for animals, and owners and their pets are spending time outside now more than ever. This means that keeping the local environment clean has become critically important for the physical and mental health of people and their animals.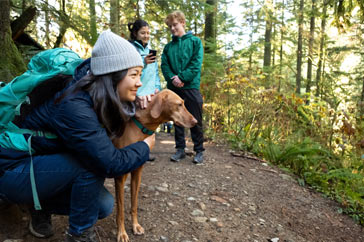 "Get Outside and Protect Our Pets" is designed to inspire individuals from across the globe to give back to their communities by cleaning up outdoor spots popular with pets and their owners, such as local parks, hiking trails or beaches. Additionally, to thank colleagues across the globe for their participation, each of Merck Animal Health's international regions will make a charitable contribution to a local organization of their choice to benefit animals in their community.
"As a company committed to the health and wellness of our colleagues and pets, Merck Animal Health's new 'Get Outside' campaign is the perfect occasion for us all to take a One Health approach towards achieving a healthier environment for our communities, including the people and animals that enjoy it," said Rick DeLuca, president. "Now more than ever, people and their animals have developed a greater appreciation for the great outdoors. Our goal for this initiative is to help improve the communities we serve by making sure our favorite outdoor spots are clean and safe for our pets and family members."
Merck Animal Health is encouraging local community members and pet owners to plan their own "Get Outside and Protect Our Pets" events, too. Whether participating with family, friends or solo, there are many ways to get involved:
Organize clean ups at local spots that are important to the community: parks, sports fields, hiking trails, dog runs, beaches, fishing ponds – volunteer to clean up the places that mean the most.
When spending time outside, proactively take care of the community by picking up trash or removing items that may be dangerous to pets – have a litter bag easily accessible to dispose of trash properly.
Keep pets safe by using a long-lasting flea and tick protection and be sure to schedule regular wellness exams with a veterinarian to ensure pets are receiving the best preventative health measures for their lifestyles.
Ask local government officials to establish regular community improvement activities and to promote volunteer or wellness initiatives.
Get involved on social media and use the hashtag #MerckAHGetOutside to showcase efforts.
To see more of Merck Animal Health's "Get Outside and Protect Our Pets" initiative on social media, follow us on Instagram @MerckAnimalHealth.
About Merck Animal Health
For over 130 years, Merck, known as MSD outside the United States and Canada, has been inventing for life, bringing forward medicines and vaccines for many of the world's most challenging diseases. Merck Animal Health, a division of Merck & Co., Inc., Kenilworth, N.J., USA, is the global animal health business unit of Merck. Through its commitment to The Science of Healthier Animals®, Merck Animal Health offers veterinarians, farmers, pet owners and governments one of the widest ranges of veterinary pharmaceuticals, vaccines and health management solutions and services as well as an extensive suite of connected technology that includes identification, traceability and monitoring products. Merck Animal Health is dedicated to preserving and improving the health, well-being and performance of animals and the people who care for them. It invests extensively in dynamic and comprehensive R&D resources and a modern, global supply chain. Merck Animal Health is present in more than 50 countries, while its products are available in some 150 markets. For more information, visit www.merck-animal-health.com and connect with us on LinkedIn, Facebook, Twitter and Instagram.
Forward-Looking Statement of Merck & Co., Inc., Kenilworth, N.J., USA
This news release of Merck & Co., Inc., Kenilworth, N.J., USA (the "company") includes "forward-looking statements" within the meaning of the safe harbor provisions of the U.S. Private Securities Litigation Reform Act of 1995. These statements are based upon the current beliefs and expectations of the company's management and are subject to significant risks and uncertainties. If underlying assumptions prove inaccurate or risks or uncertainties materialize, actual results may differ materially from those set forth in the forward-looking statements.
Risks and uncertainties include but are not limited to, general industry conditions and competition; general economic factors, including interest rate and currency exchange rate fluctuations; the impact of the global outbreak of novel coronavirus disease (COVID-19); the impact of pharmaceutical industry regulation and health care legislation in the United States and internationally; global trends toward health care cost containment; technological advances, new products and patents attained by competitors; challenges inherent in new product development, including obtaining regulatory approval; the company's ability to accurately predict future market conditions; manufacturing difficulties or delays; financial instability of international economies and sovereign risk; dependence on the effectiveness of the company's patents and other protections for innovative products; and the exposure to litigation, including patent litigation, and/or regulatory actions.
The company undertakes no obligation to publicly update any forward-looking statement, whether as a result of new information, future events or otherwise. Additional factors that could cause results to differ materially from those described in the forward-looking statements can be found in the company's 2020 Annual Report on Form 10-K and the company's other filings with the Securities and Exchange Commission (SEC) available at the SEC's Internet site (www.sec.gov).