Ridding Haiti of Rabies
Haitian school children thumb through the pages of a comic book that features an angry dog chasing a popular cartoon character up a tree. The story, written in Creole, teaches children how to be safe around dogs and about the dangers of rabies.
Although the book is entertaining, it is intended to be life-saving. "Haiti is one of the five remaining countries in the Americas where we still see human deaths from canine rabies infections," says Ryan Wallace, Veterinary Epidemiologist with the Centers for Disease Control and Prevention (CDC). "Haiti has the highest human death rate from rabies in the Western Hemisphere, an estimated two deaths every week."
The comic book is among the creative ways that the CDC and companies like ours are helping educate and activate communities to prevent, control and eliminate rabies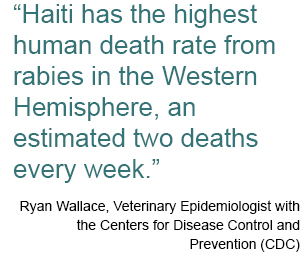 A Dog's Life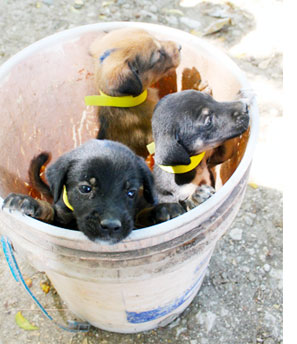 In Haiti, dogs are considered part of the family, but they are not fenced in or leashed. They roam the island freely, making them highly vulnerable to rabies.
After a sharp spike in rabies infections, Haiti's government and the CDC began monitoring rabies and taking action to increase vaccination in 2013. During the 2017 to 2018 vaccination campaign, approximately 275,000 dogs have been vaccinated against rabies, the highest number Haiti has ever achieved. However, the country will need to vaccinate even more dogs next year as well as maintain a high level of vaccination for several years to eliminate rabies from Haiti.
"Awareness is a big challenge. Not everyone has a TV," says Ryan. "In addition, Haiti is the poorest country in the Western Hemisphere. Programs compete for resources, which are stretched thin."
Educating to Save Lives
In 2017, Haiti's Animal Rabies Surveillance Officers taught more than 90,000 school children about rabies. In addition, rabies investigation teams prevent 20 human rabies deaths each year through post-bite counseling, according to the Centers for Disease Control and Prevention.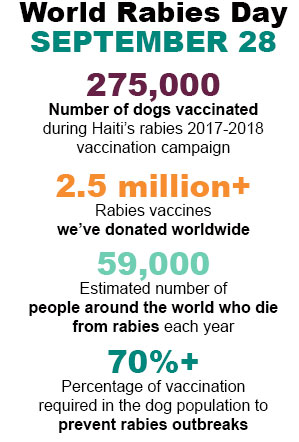 Spreading Awareness to Stop the Spread of Disease
Ridding Haiti of rabies requires innovative thinking, and that's where the comic book comes in. The CDC originally produced the comic book in 2017. However, funding was low, and in 2018, Merck Animal Health provided support for the printing of 3,000 additional copies, including laminated versions to be left at schools. We also supported a school-based campaign that emphasizes the benefits of education.
"We believe that it's not enough to simply vaccinate dogs," says Alasdair King, Director, Intergovernmental Veterinary Health, Merck Animal Health. "It also is important to support education to improve human-dog interactions. Working with the CDC, we are able to show how we can all really make a difference to people's lives."
In addition, two communities took part in a Merck-funded text-messaging effort to remind dog owners to get their dogs vaccinated. "Most residents have a cell phone, so we texted them to listen for the megaphones so they would know where to bring their dogs for vaccination," says Ryan.
A total of 600,000 text messages went out to residents of Gonaives and Saint-Marc with positive results. "We learned that text messaging may be a successful strategy in low-resource areas," says Alasdair, one of the authors of the study on the impact of text messaging on rabies vaccination rates in Haiti. "Insights from this study provide an essential lesson for future campaigns on a number of diseases, not just rabies."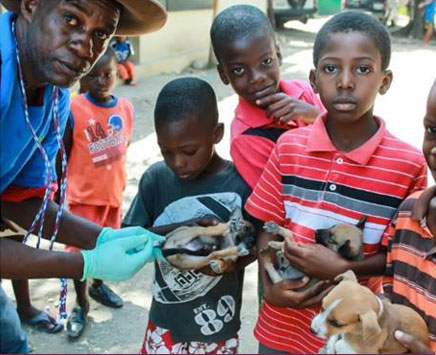 Zero Deaths by 2030
A total of 30 countries have eliminated rabies through vaccination, but it remains a deadly threat in 122 countries. "The goal is to achieve zero human deaths from rabies around the world by 2030," says Ryan. "Achieving that goal requires a global effort, community and government involvement, and partnerships with companies like Merck Animal Health. If we work together, elimination is possible.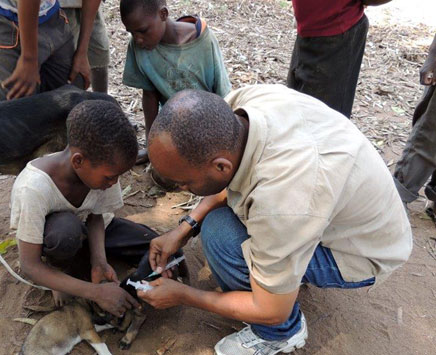 Keeping the Temperature Just Right
Our company joined the fight against rabies more than 15 years ago by supporting the Afya Serengeti Project and, later, Mission Rabies. During this time, we have donated more than 2.5 million rabies vaccines to support dog vaccination programs worldwide. In addition, we recently partnered with Mission Rabies to introduce a first-of-a-kind temperature monitoring and control system to ensure that rabies vaccines remain at the right temperature during storage and transit.