Veterinarians Wellbeing
Veterinarians take good care of our animals. A new, first-of-its-kind study reveals they may need some extra care of their own.
This study of more than 3,500 U.S. veterinarians found veterinarians age 45 and younger are more likely to experience serious psychological distress.
They also are hesitant to recommend the job to others. The study found that 41 percent of veterinarians overall say they would recommend their profession. That number falls to 27 percent for veterinarians 45 years old and younger.
"Younger veterinarians are the future of our profession, and we're concerned about them," says Linda Lord, Ph.D., DVM, Merck Animal Health study investigator. "Data from the study provide insights that can be used to improve the wellbeing of veterinarians."
Feeling Overstressed and Undervalued
The American Veterinary Medical Association (AVMA) and Merck Animal Health collaborated on the study. The idea was to definitively quantify the prevalence of mental illness and stress in the veterinary profession and compare the findings to previous studies and the general U.S. population.
According to the study, veterinarians overall suffer from serious mental health issues about as often as the general population: 1 in 20. Of that 1 in 20, Depression (94%), burnout (88%) and anxiety (83%) are the most frequently reported conditions. But a closer look at the data shows that the financial, physical and emotional stresses that come with veterinary life take a greater toll on younger veterinarians compared to their older counterparts and the general population.
The study showed that the top concern among veterinarians is high student debt. Last year, the AVMA says the average veterinary student graduated with more than $138,000 in student debt, nearly twice the average starting salary for a veterinarian.

Survey Results
This study was conducted in collaboration with AVMA.
Only 41% of veterinarians recommend a career in veterinary medicine.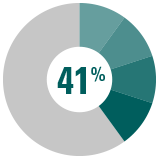 For veterinarians, poor mental health is closely associated with the stresses of professional life –excessive work hours, poor work-life balance and student debt.

"The job can be incredibly rewarding and incredibly taxing on mental health,"says veterinarian Linda Lord
"Veterinarians today cope with a physically and emotionally demanding occupation that is undergoing changes from increased competition to the declining ability of clients to pay for veterinary care," says Jen Brandt, Director, Wellbeing and Diversity Initiatives, AVMA. "Veterinarians often find themselves giving up the things that improve wellbeing and provide a healthy balance in life."
What Happens Now?
Investigators shared the study results during the 2018 Veterinary Meeting & Expo (VMX) on Feb. 6 in Orlando, Florida. "The study helps quantify the prevalence of mental illness and stress in the veterinary profession," says Lord. "Now, we must work together to ensure that veterinarians get the wellbeing support they need and can continue in their important role of keeping animals healthy."

All in a Day's Work
A veterinarian's workday can involve long hours, missed time with family, stressful interactions with workers and difficult decisions that involve the diagnosis and treatment of critically ill patients. "The job can be incredibly rewarding and incredibly taxing on mental health," says veterinarian Linda Lord.
Stress? Fatigue? Debt? There's Help
U.S. veterinarians have access to tools and resources to help manage stress, work-life balance and financial health but only half of veterinarians with serious psychological distress use them, according to the study. Find out what tools might be helpful for veterinarians through the American Veterinary Medical Association's wellbeing community.