We're for the Horse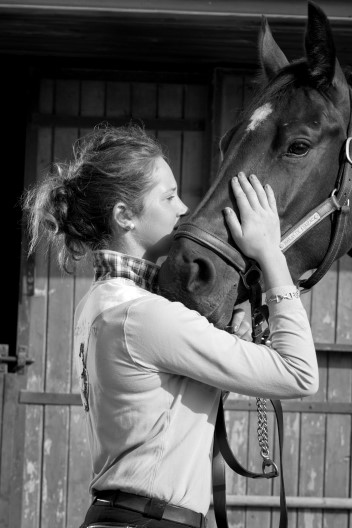 The horse holds a unique position in the history of mankind. The horse and human bond is strong, and throughout human civilization horses have provided us with transportation, companionship and the means to explore the world. One way we can recognize the enormous scale of their contribution is to maintain and improve the health of these magnificent animals. Merck Animal Health is committed to doing exactly that.
With the world's largest offering of equine products, ranging from vaccines to reproduction management, the Merck Animal Health Equine Portfolio is dedicated to continual innovation. Our products, research and horse owner education programs are all focused on providing a better life for our equine companions and better resources and medicines for the equine practitioner. At the heart of the Equine Portfolio is our rallying cry, "We're For the Horse," which showcases our goal to be a true partner to our customers and provide the best care for horses.
Keeping Horses Healthier
Merck Animal Health keeps horses healthier by providing a comprehensive package of integrated solutions for equine health.
The suite of Merck Animal Health equine products and services includes:
As our equine customers are becoming more global, we adapt to meet their needs and develop our products and services in close collaboration with them. Our partners include allied businesses, universities, biotech companies and research institutions that also seek to develop and market innovative equine products.



Passionate about Horses, From Muzzle to Tail
Merck Animal Health's commitment to horse health extends beyond the science of developing new technology. We recently partnered with the American Association of Equine Practitioners to create the Unwanted Horse Veterinary Relief Campaign, donating thousands of vaccine doses to shelters for unwanted horses.
In 2014 and 2015, Merck Animal Health also sponsored Vets with Horsepower, a group of British equine veterinarians who hit the road for a 2,700 mile motorcycle journey across Eastern Europe (2014) and around the UK and Ireland (2015) to raise funds for human charities and The Gambia Horse and Donkey Trust. With the funds raised, The Gambia Horse and Donkey Trust is building a new veterinary center, which will allow the charity to treat urban working animals and train their owners.
The Merck Animal Health Equine Portfolio offers a broad package of solutions, as well as unwavering support for the equine industry. As we continue to innovate equine solutions and collaborate across the globe, "We're for the Horse," is a genuine commitment to leadership in equine health.