Merck Animal Health Presents Unique Perspective of Polish Dairies During European Mastitis Panel
Hands-on Opportunity for Dairy Experts to Exchange Knowledge
MADISON, NJ, July 17, 2017 – In May, Merck Animal Health (known as MSD Animal Health outside the USA and Canada) hosted udder health and milk quality experts from 10 different European countries, to learn more about the Polish dairy industry at a meeting in Gdansk, Poland.

The meeting provided attendees with information about mastitis control and treatment, particularly for the most persistent pathogens – which is a challenge for many dairies in the region – as well as ways to optimize udder health management for the best outcomes.

"Now the fifth largest milk producing country in the EU with 2.5 million cows producing more than 12 million tons of milk each year, it's surprising to know that 70% of Poland's dairy farms have one to nine cows," explains scientific affairs director, Jantijn Swinkels. "The continued growth of this market made Poland an ideal location for this year's panel."

The group visited a farm with over 1.000 cows. The farm is unique because not only is it much larger than the average dairy farm in Poland, producing 11.500 kg of milk per lactation, but the farm has implemented an ambitious mastitis control program, which helped to optimize udder health management allowing for ample milk production.

During this time together, attendees also began a collaborative research project that will highlight correlations between genes and clinical outcomes of the major pathogen, Staphylococcus aureus, collected from 10 different EU countries. Results of this research will be presented at the next European Mastitis Panel meeting in Budapest, Hungary, next May.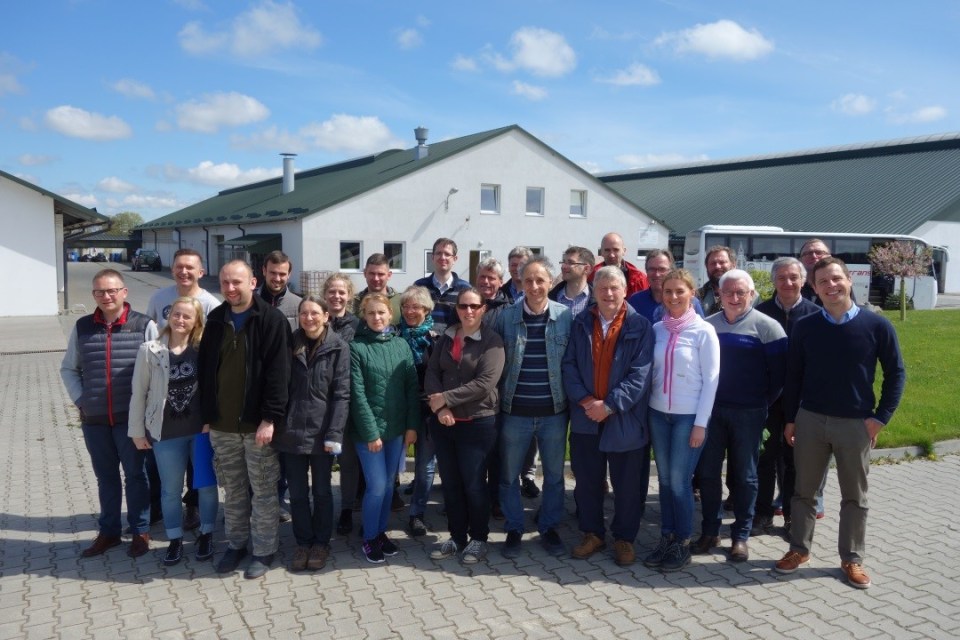 Participants in a break out session discuss efforts to promote better biosecurity on swine farms.
About Merck Animal Health
For more than a century, Merck, a leading global biopharmaceutical company, has been inventing for life, bringing forward medicines and vaccines for many of the world's most challenging diseases. Merck Animal Health, known as MSD Animal Health outside the United States and Canada, is the global animal health business unit of Merck. Through its commitment to the Science of Healthier Animals™, Merck Animal Health offers veterinarians, farmers, pet owners and governments one of the widest range of veterinary pharmaceuticals, vaccines and health management solutions and services. Merck Animal Health is dedicated to preserving and improving the health, well-being and performance of animals. It invests extensively in dynamic and comprehensive R&D resources and a modern, global supply chain. Merck Animal Health is present in more than 50 countries, while its products are available in some 150 markets. For more information, visit www.merck-animal-health.com or connect with us on LinkedIn, Facebook and Twitter at @MerckAH.