Allflex Livestock Intelligence Partners With Kaleidoscope Plus Group To Raise Awareness About Mental Health Issues Among Farming Families
Employees Walk 84 miles on Hadrian's Wall Path.
STANLEY, U.K., July 22, 2019 – Allflex Livestock Intelligence and The Kaleidoscope Plus Group, a mental health and well-being charity, today announced they have partnered to raise awareness of the impact that mental health issues can have among farming families. Both organizations are promoting positive health and well-being in rural, farming communities and calling attention to those individuals affected with mental health issues to receive support.
Over the course of three days, 19 employees from Allflex Livestock Intelligence and The Kaleidoscope Plus Group walked from Bowness-on-Solway on the northwest coast of Cumbria to Wallsend to the east of Newcastle Upon Tyne.
"In the U.K., 84 individuals are affected by suicide each week with a disproportionate number coming from the agricultural community, where loneliness, isolation and the lack of opportunity for communication are contributing factors," said Dan Noble, marketing manager, U.K. and Ireland, Allflex Livestock Intelligence. "It was very pertinent that we walked the 84 miles on Hadrian's Wall Path to increase awareness of the devastating impact that mental illness can have on farming families and the wider rural community."
The walkers set off on Friday, 12th July, and covered 30, 30 and 24 miles, respectively, over three consecutive, 15-hour days, completing their trip on Sunday, 14th July. To-date, their efforts have raised over £3,000, which can fund 20 mental health first-aiders, 50 two-hour, suicide bereavement support groups or 300 half-hour, one-to-one, safe-place sessions with individuals who may be suffering from mental distress.
Anyone wishing to make a donation can do so at www.justgiving.com/fundraising/allfllexkpg. Alternatively, a donation of £10 can be made by texting 'KPGWALL 10' to 70085.
"The walk was a huge challenge for all who took part, physically, mentally and emotionally," said Dave Pickard, corporate business development and research manager, The Kaleidoscope Plus Group. "We know that people who experience depression or suicidal feelings will be going through similar mental challenges every single day, and we want anyone who feels this way to reach out and get support to help them on their road to recovery. We would like to thank those who took part in the event, and everyone who has made a donation or supported us on our walk. We are hugely grateful for our ongoing partnership with Allflex Livestock Intelligence and look forward to working together in the future."
PHOTOS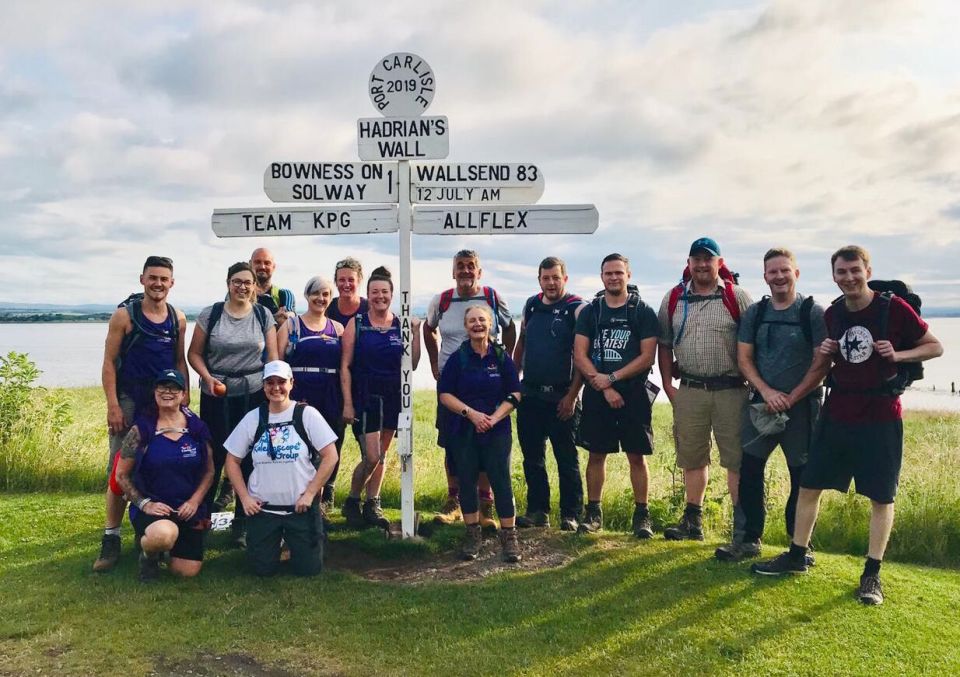 About Allflex Livestock Intelligence
Allflex Livestock Intelligence is the world leader in the design, development, manufacturing and delivery of solutions for animal identification, monitoring and traceability. Our data-driven solutions are used by farmers, companies and countries to manage hundreds of millions of animals worldwide. By putting intelligent, actionable management information into farmers' hands, our solutions empower them to act in a timely manner to safeguard their animals' health and wellbeing, while achieving optimal production outcomes for a healthy food supply. Allflex Livestock Intelligence is a Livestock portfolio of digital products within MSD Animal Health.
As the largest provider of animal identification technology, we meet growing customer needs by providing over 500 million tags for identifying, tracking and monitoring animals every year and we monitor over 5.5 million cows daily, which allows access to real-time, actionable data and insights to help improve or enhance animal management and health outcomes.
With over 60 years of experience and around 1,900 team members worldwide, we have a global network of experts, each with a great depth of experience and unparalleled knowledge, who provide a valuable resource to farmers, companies and countries. Allflex Livestock Intelligence has manufacturing and technology subsidiaries in North America, Europe, Israel, South America, China, Australia and New Zealand. Our products are distributed in over 100 countries.
Through its commitment to TheScience of Healthier Animals®, MSD Animal Health offers veterinarians, farmers, pet owners and governments one of the widest ranges of veterinary pharmaceuticals, vaccines and health management solutions and services as well as an extensive suite of digitally connected identification, traceability and monitoring products. MSD Animal Health is dedicated to preserving and improving the health, well-being and performance of animals and the people who care for them.
For more information, visit www.allflex.global/uk or connect with us on Facebook or Twitter.
Forward-Looking Statement of Merck & Co., Inc., Kenilworth, N.J., USA
This news release of Merck & Co., Inc., Kenilworth, N.J., USA (the "company") includes "forward-looking statements" within the meaning of the safe harbor provisions of the U.S. Private Securities Litigation Reform Act of 1995. These statements are based upon the current beliefs and expectations of the company's management and are subject to significant risks and uncertainties. If underlying assumptions prove inaccurate or risks or uncertainties materialize, actual results may differ materially from those set forth in the forward-looking statements.
Risks and uncertainties include but are not limited to, general industry conditions and competition; general economic factors, including interest rate and currency exchange rate fluctuations; the impact of pharmaceutical industry regulation and health care legislation in the United States and internationally; global trends toward health care cost containment; technological advances, new products and patents attained by competitors; challenges inherent in new product development, including obtaining regulatory approval; the company's ability to accurately predict future market conditions; manufacturing difficulties or delays; financial instability of international economies and sovereign risk; dependence on the effectiveness of the company's patents and other protections for innovative products; and the exposure to litigation, including patent litigation, and/or regulatory actions.
The company undertakes no obligation to publicly update any forward-looking statement, whether as a result of new information, future events or otherwise. Additional factors that could cause results to differ materially from those described in the forward-looking statements can be found in the company's 2018 Annual Report on Form 10-K and the company's other filings with the Securities and Exchange Commission (SEC) available at the SEC's Internet site (www.sec.gov).